Japanese Car Page
I've been taking pictures of Japanese-spec Mitsubishis and a few other cars that appeal to me. Stay tuned to this page. I'll be offering some true sports cars soon!


Mitsubishi Lancer GSR!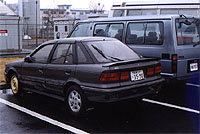 I saw this car when I first arrived in country. I made these pics thumbnails...if you double-click on them, you'll see bigger pictures. Please disregard the yellow dougnut and the dent on the lower part of the front passenger door. I didn't get a photo of this car for it's beauty, but because I have never seen one before. Look at how small it is!! It looks like a Galant VR4 that got slammed from behind. I got a good look at the labeling and its a turbo 16V DOHC 4-cyl. It didn't say if it was AWD so I assume it isn't. I haven't seen any Lancer EVOs with this bodystyle. I don't even know the engine displacement....I'm assuming its not the 4G63 though. It even has four doors. It's the only one I've seen like it, so I'm also assuming that these cars are rare.


Suzuki Capuccino!!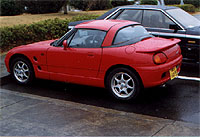 I saw this car the same day I saw the Lancer. I think I've seen this car in auto magazines a few years back, as a concept car. It should have a very small engine (hence the yellow tags....supposedly means that the engine is very small displacement). It has a very small interior also, but looks kind of comfortable. Wonder why they never made it to the U.S.? I'm sure they could have put a bigger engine in the bay. Maybe it was designed strictly for the Japanese local.
Toyota Carina ED!!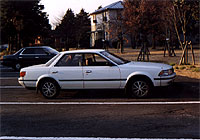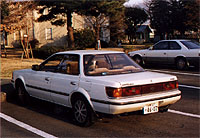 Hehehe....this is the car I got when I arrived here. Actually, it was given to me. All I had to do was register it and get insurance, which added up to $700. So much for getting it free! I've been trying to gather info on this car but I haven't had any luck. It has the Toyota's 2.0L 16V DOHC engine in it. Of course it's FWD. I'll be happy with it until I can find another, maybe like the Lancer above or maybe even a Rover Mini (which are plentiful here).
---

Go back to the top of the page

Go back to Ron's Talon Pages



Go back to Ron's Page of Wonders

Last Updated on 2/26/99
By Ron Sinclair
Email: blackjack28@hotmail.com